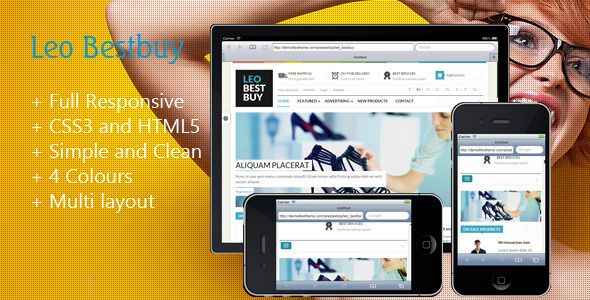 Leo Bestbuy – a feature responsive prestashop theme for Preatshop 1.6 powered with Leo Framework – a powerful responsive Prestashop framework. The powerful admin panel will serve you manage your site better, customize easier.
Its design is perfect for Fashion store, Beauty store, Accessorize shop, Clothes store, Dress shop, Shoes shop as well.
whether you like my theme please rate it. Thanks for purchasing the theme.
Working On: Prestashop version 1.6.x
Template Features
  Simple and Clean Design
  Support Responsive Design
  4 Colours Themes support (Orange, Green, Green, Violet, Default…)
   Supports multiple layout options, configured within seconds from back-office.
   Template support for Jquery Effects, css 3.
   Multiples modules suffix's build-in template for module styling.
  Easy change color, template width via the Leo Theme Control Panel Module
   Support for native language file translation.
   Impressive built-in content style.
   Supports multiple layout options, configured within from back-office.
   Lightweight, contemporary and very rapidly-loading design.
   W3C XHTML 1.0 Transitional. W3C CSS Valid.
   Fully compatible IE8+, Firefox 2+, Firefox 3, Flock 0.7+, Netscape, Safari, Opera 9.5, Chrome. 
What are included?
Quickstart Installation Package
This Package packed full Modules, Templates, Userguide, DataSameple. By using this package, you will secure site having same as the demo did 
PSD Sources
full our templates are delivered with source Adobe .PSD files.
Included Extension Packages 
You can secure full of Template, Modules, Plugins… which we uses for the demo.  
Support
whether you own any question please contact me via contact form on themeforest profile page.
Support ways
Change log:
Version 1.6.1.14
Version 1.6.1.6
****** File tpl ****
- shopping-cart-advanced.tpl
- reduction.tpl
- modulesloyaltyviewstemplatesfrontloyalty.tpl
- modulesblockwishlistblockwishlist-additional.tpl
- modulesblockwishlistblockwishlist_button.tpl
- modulesblockwishlistblockwishlist.tpl
- modulesblockwishlistviewstemplatesfrontview.tpl
- modulesblockwishlistviewstemplatesfrontmywishlist.tpl
- modulesblockwishlistviewstemplatesfrontmanagewishlist.tpl

Version 1.6.1.5
**** File tpl ****
- header.tpl

**** File JS ****
- jsproduct.js
- jsstores.js
- jsmodulesblocklayeredblocklayered.js

Version 1.6.1.4
****** File tpl ****
- address.tpl
- authentication.tpl
- category.tpl
- footer.tpl
- header.tpl
- history.tpl
- order-carrier-advanced.tpl
- order-carrier.tpl
- manufacturer-list.tpl
- order-carrier-opc-advanced.tpl
- order-confirmation.tpl
- order-payment-classic.tpl
- pagination.tpl
- product-sort.tpl
- shopping-cart.tpl
- shopping-cart-advanced.tpl
- supplier-list.tpl
- subproductsidebar.tpl
- subproductsidebar-obj.tpl
- subproduct-itemproduct-item.tpl
- subproduct-itemproduct-item-special.tpl
- subproduct_infodefault.tpl
- subproduct_infotab.tpl
- modulesblockwishlistviewstemplatesfrontmanagewishlist.tpl
- modulesblockwishlistblockwishlist_button.tpl
- modulesblockwishlistblockwishlist-additional.tpl
- modulesbankwireviewstemplateshookpayment_return.tpl
- modulesblockcartblockcart.tpl
- modulesblocklanguagesblocklanguages.tpl
- modulescashondeliveryviewstemplatesfrontvalidation.tpl
- modulesblockspecialsblockspecials.tpl
- modulescashondeliveryviewstemplateshookpayment.tpl
- modulescrosssellingcrossselling.tpl
- modulesleobootstrapmenuviewstemplateshookmegamenu.tpl
- modulesleobootstrapmenuviewswidgetswidget_products.tpl
- modulesleomanagewidgetsviewswidgetswidget_manucarousel.tpl
- modulesproductcommentsproductcomments.tpl
- modulessendtoafriendsendtoafriend-additional.tpl

***** File JS *****
- product.js
- global.js
- modulesblockcartajax-cart.js
- modulesblocktopmenujsblocktopmenu.js
- jsdebugjquery.lint.LICENSE
- jsautoloadjquery.total-storage.LICENSE
- jsautiloadjquery.uniform-modified.LICENSE

***** File CSS *****
- global.css
- autoloaduniform.default.css
- modulesblockcartblockcart.css
- modulesblockwishlistblockwishlist.css

Version 1.6.1.0
Version 1.6.0.9
(+) Add unique

Version 1.6.0.11
[modify] .tpl file
(#) /leo_bestbuy/authentication.tpl 
(#) /leo_bestbuy/breadcrumb.tpl
(#) /leo_bestbuy/category.tpl
(#) /leo_bestbuy/contact-form.tpl
(#) /leo_bestbuy/reduction.tpl
(#) /leo_bestbuy/footer.tpl
(#) /leo_bestbuy/global.tpl
(#) /leo_bestbuy/header.tpl
(#) /leo_bestbuy/identity.tpl
(#) /leo_bestbuy/manufacturer-list.tpl
(#) /leo_bestbuy/order-address.tpl
(#) /leo_bestbuy/order-address-multishipping.tpl
(#) /leo_bestbuy/order-carrier.tpl
(#) /leo_bestbuy/order-detail.tpl
(#) /leo_bestbuy/order-opc-unique-account.tpl
(#) /leo_bestbuy/order-payment.tpl
(#) /leo_bestbuy/order-steps.tpl
(#) /leo_bestbuy/pagination.tpl
(#) /leo_bestbuy/product.tpl
(#) /leo_bestbuy/search.tpl
(#) /leo_bestbuy/shopping-cart.tpl
(#) /leo_bestbuy/shopping-cart-product-line.tpl
(#) /leo_bestbuy/supplier-list.tpl
(#) /leo_bestbuy/modules/blockcart/blockcart.tpl
(#) /leo_bestbuy/modules/blockcategories/category-tree-department.tpl
(#) /leo_bestbuy/modules/blocklayered/blocklayered.tpl
(#) /leo_bestbuy/modules/blocksearch/blocksearch.tpl
(#) /leo_bestbuy/modules/blocksearch/blocksearch-top.tpl

[modify] .js file
(#) /leo_bestbuy/js/authentication.js
(#) /leo_bestbuy/js/cart-summary.js
(#) /leo_bestbuy/js/category.js
(#) /leo_bestbuy/js/global.js
(#) /leo_bestbuy/js/order-address.js
(#) /leo_bestbuy/js/order-opc.js
(#) /leo_bestbuy/js/product.js
(#) /leo_bestbuy/js/products-comparison.js
(#) /leo_bestbuy/js/modules/blockcart/ajax-cart.js
(#) /leo_bestbuy/js/modules/blocksearch/blocksearch.js

[modify] .css file
(#) /leo_bestbuy/css/global.css

Version 1.6.0.14
[modify] 
(#) cssmodulesblockcartblockcart.css
(#) csscategory.css
(#) cssglobal.css
(#) csspaneltool.css
(#) cssresponsive.css

(#) jsmodulesblockcartajax-cart.js
(#) jsmodulesblocklayeredblocklayered.js
(#) jsmodulesblocknewsletterblocknewsletter.js
(#) jsmodulesblocksearchblocksearch.js
(#) jscart-summary.js
(#) jscategory.js
(#) jscontact-form.js
(#) jsglobal.js
(#) jsorder-address.js
(#) jsorder-opc.js
(#) jsproduct.js
(#) jsproducts-comparison.js

(#) layoutsetting.tpl

(#) modulesblockcartblockcart.tpl
(#) modulesblocklayeredblocklayered.tpl
(#) modulesblocksearchblocksearch.tpl
(#) modulesblockwishlistblockwishlist-additional.tpl
(#) modulesleomanagewidgetsviewswidgetsdisplaycontentbottomproducts_owl.tpl
(#) modulesleomanagewidgetsviewswidgetsdisplayhomeproducts_owl.tpl
(#) modulesleomanagewidgetsviewswidgetsproducts_owl.tpl
(#) modulesleomanagewidgetsviewswidgetswidget_specialproduct_owl.tpl

(#) subproductdefault.tpl
(#) subproductproduct-list-form.tpl
(#) subproductsidebar.tpl
(#) subproductsidebar-obj.tpl
(#) subproductswap.tpl
(#) subproduct_infotab.tpl
(#) subproduct-itemproduct-item.tpl

(#) authentication.tpl
(#) breadcrumb.tpl
(#) category.tpl
(#) contact-form.tpl
(#) errors.tpl
(#) header.tpl
(#) identity.tpl
(#) maintenance.tpl
(#) manufacturer-list.tpl
(#) order-address.tpl
(#) order-address-multishipping.tpl
(#) order-carrier.tpl
(#) order-detail.tpl
(#) order-opc-unique-account.tpl
(#) order-payment.tpl
(#) order-steps.tpl
(#) pagination.tpl 
(#) product.tpl
(#) product-item.tpl
(#) product-item-special.tpl
(#) products-comparison.tpl
(#) product-sort.tpl
(#) search.tpl
(#) shopping-cart.tpl
(#) shopping-cart-product-line.tpl
(#) special-product-item.tpl
(#) supplier-list.tpl