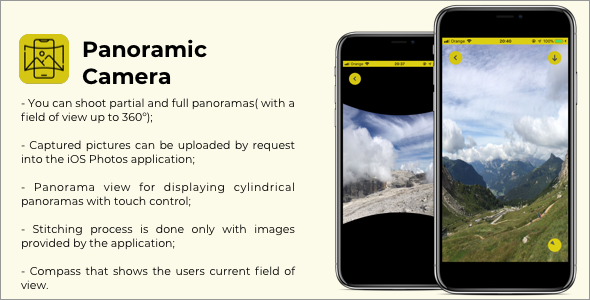 Panoramic Camera is an application with whom panoramas can be easily created within seconds. Keeping your device vertically, just tap anywhere on the screen and hobble your phone slowly and steadily from left to right. Once done capturing, the images will be stitched into one panorama image automatically and presented in a panorama view.
App is written in Swift 5, but uses also and Objective – C. Uses Xcode 10.3.
Deployment target: iOS 9 and above.
Note:
The application shoots only cylindrical panoramas;
Stitching processs is done only with images if by the application.
Features
You can shoot partial and full panoramas( with a field of view up to 360º);
Captured pictures can be uploaded by request into the iOS Photos application;
Panorama view for displaying cylindrical panoramas with touch control;
Stitching process is done only with images if by the application;
Compass that shows the users current field of view.
Live Demo
To try the Panoramic Camera application seek below.
Download iOS IPA File press here.
Install the IPA through Apple Configurator 2 (free app from the App Store).
To watch the Panoramic Camera in action press here.
= 1.0 (24 September 19) =
Initial release version

-  First Release
-  Swift 5

collect in touch
[email protected]