Technology
Quick Maths – HTML5 Game + Mobile Version + ADMOB-GDPR + Leaderboard + Achievement (Construct 2/3)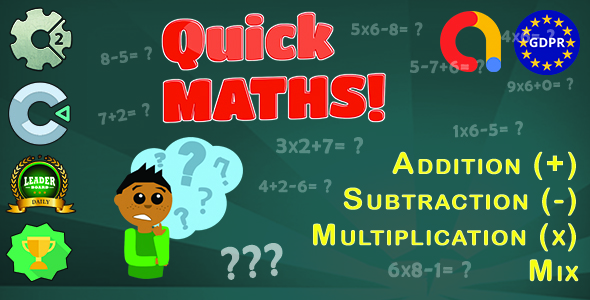 Educational Game
Addictive game. Test your math speed and accuracy in 3-4 seconds. Tap the calculation quickly and correctly. Compete with others to bag the highest score and reach the achievement of being a mathematician legend.

Features:
Full Game;
HTML5 Mobile Optimized;
Mobile App Optimized Cordova;
Admob Integrated + GDPR;
Leaderboard and Achievements;
One Touch Control;
Touch & Mouse;
Sound Fx;
Playable in full platforms (Mobile, PC, etc.);
Online Support 24/7;
Included Files for Export to IOS & Android;
High Resolution: HD – 1280*720px;
Simple Gameplay;
Easy to Reskin;
Easy to Add Content
Easy to Change Source;
Including Constuct 3 (.c3p) and Construct 2 file (.capx);
No Programming Knowledge Needed!
What can i effect with the capx file?
You can easy to edit the game (don't need coding skills, just drap & drop).
You can export to mobile game (android, ios) or HTML5 game with fully compatible
WARNING!!!
You need:
Construct 3 or Construct 2 Version 248 or later
Plugin Social Sharing
SCREENSHOTS
PLEASE RATE!
whether you buy our games, please rate their! And we give you a present one more game! ? To bag a gift sufficient to assess the game in ? stars, write in the comments your e-mail and we will send you a gift! Also you can contact us by email: [email protected]
MORE GAMES