Templates
Setiva – Responsive Magazine Blogger Template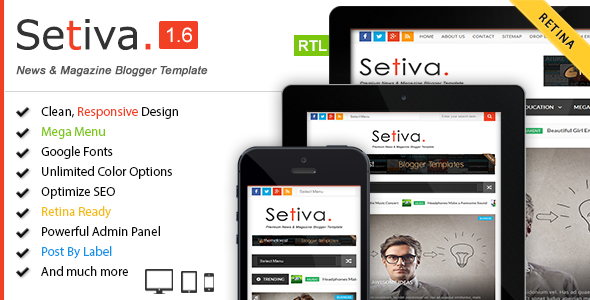 Setiva blogger template is a another pleasing and contemporary blogger template. its clean and fresh flat color based responsive blogger design and high user friendly blogger template.This theme perfect for news, magazine and personal websites.
Please execute Not Forget to Rate





Setiva – Responsive Magazine Blogger Template
Setiva – Responsive Magazine Blogger Template Features
100% Responsive Design
100% RTL Support (one click install) Check it
PowerFull Admin Panel Check it
Retina Ready
Widgets Drag and Drop Support
Unlimited Colour Customization
Advance Editor: Change background color, upload background images,colors, fonts, fonts size.
Responsive Mega Menu
Auto Blog Post Summarize
Rich Snippets Support Check it
Mobile Friendly Check it
Auto detect flickr and other Images open for Lightbox
Tabbed Menu
Random and Recent Post Support Main Slider
Disqus, Facebook, Blogger Comment System
Multi Author Supported
Jquery image overlay effect with Icons
3 Column Footer Area
YouTube Video Support (Any post style)
Responsive Ad Widget (Google Adsense Support)
Responsive Flexslider
News Ticker
CSS3 + HTML Dropdown Menu
Recent Post By Label (16 Post style )
Author Info Widget
High Quality Image Optimize Without Crop
cold Related Posts Widget
JqueryOverlay effect support with touch devices
Well Documentation
Threaded Comments
Responsive Site Map Widget
Custom Error 404 Page
User Friendly Admin Layout
More…
Sources and Credits
Awesome Buyers Ratings
Support
Please send me any questions that you beget or any bugs you find, I will reply your questions immediately, my time is (GMT +5.30) and we respond to your question within 24 hours on commerce, trade days, no weekdays.
Notice
Release V1.6 / 29 April 2015
+ unusual - improved SEO result
+ unusual - Added Schema.org Structured Data / BlogPosting / WPHeader / WPFooter/ WPSideBar
- Fixed - Post social share not work properly / facebook share
- Fixed - Rich Snippets errors
- Fixed - Some RTL directions
- Fixed - Meta tag Errors

Release V1.5 / 16 April 2015
- Fixed - Some RTL directions

Release V1.4 / 10 April 2015
- Fixed - Some responsive errors
- Fixed - Loading speed
- Fixed - Some RTL directions

Release V1.3 / 22 Mar 2015
- Fixed - post title bottom border responsive errors
- Fixed - left sidebar post,right sidebar post, responsive errors 

Release V1.2 / 15 Feb 2015
+ unusual - Boxes
+ unusual - Lightbox
+ unusual - improved SEO result
- Fixed - Google rich snippet not work properly
- Fixed - hreview,blogposting,hcard,person not work properly

Release V1.1 / 29 Jan 2015
+ unusual - improved SEO result
+ unusual - Shordcodes
+ unusual - Buttons
+ unusual - Tabs and Columns
+ unusual - Boxes
+ unusual - Lightbox
- Fixed - Search bar not work properly
- Fixed - Some responsive errors
- Fixed - Loading speed
- Fixed - Some RTL directions
- Fixed - Document file wrong settings

Release V1.00 / 7 Jan 2015
Initial Release